Caitlyn: Bellydancer Performer and Instructor
*Registering for bellydance classes on Zoom from March 2021? The best value is monthly membership through Patreon: https://www.patreon.com/bellydanceclass For other options, contact Caitlyn*
Caitlyn has taught and performed internationally, accompanied by musicians ranging from Middle Eastern bands to fusion artists to rappers. She has bellydanced in several music videos, and has performed more than 1000 live shows.
Caitlyn's clients have included top universities, military institutions, corporations and charities, as well as numerous nightclubs, restaurants and private events. An elegant and versatile artist, Caitlyn is equally comfortable dancing solo or in a dance group, for an intimate audience or a banquet hall of hundreds.
Caitlyn is from a family of dancers and circus performers and has studied with some of the top bellydancers and instructors of Egypt, Turkey, Germany, America, and the U.K. Bellydance has always been her primary dance interestm but she has also studied burlesque, Argentine tango, flamenco, dance history, and costume design.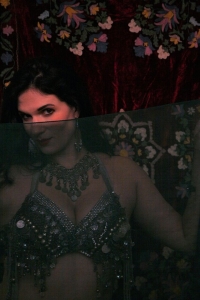 I was nervous about having a dancer [at my wedding] because I didn't know how my family would react…but everyone loved it. Your [more conservative] costume was perfect… You did me and my family proud.
Thank you so much for the great atmosphere that you brought through your show. You have the grace, the beauty, the charm, the sensuality–and on the top of that you are very skilled in your field. You mesmerised everyone.
Everyone was really enjoying it, especially the children. The band was wonderful.
Thank you for performing at our party on Saturday. You dance superbly and it really added a wow factor to our Moroccan theme. All of our guests have commented on how accomplished you are. Clearly you have studied this art form in depth and the dancing, music and dress were amazing.
Thank you so much for such a superb, classy performance – it was just what we had hoped for and more, and I thought you judged it all exactly right – your costumes, the music, everything!
You certainly gave sleepy Shropshire something to talk about!